Following the tightening of USA commercial accountancy laws in the Sarbanes-Oxley Act, 2002, many international universities and educational establishments initially thought that they would be unaffected; after all, the law is American and applies to businesses. Yet, in the world of international higher education and in a world where the majority of higher education is either a commercial business or responsible for running commercial businesses, the principles of the Act have been widely adopted. There are six underlying principles of fair governance:
Accountability

Efficiency

Equity

Transparency

Effectiveness

Participation.
Each of these needs to be applied at each of at least three levels of community:
Internally

Regulatory/commercial

Public/professional.
As a result of work in Thailand, Galaţi (Romania) and the USA, the following model has been prepared as a simplified view of the work needed to co-ordinate these three levels of educational governance with the six pillars of generally accepted accounting governance.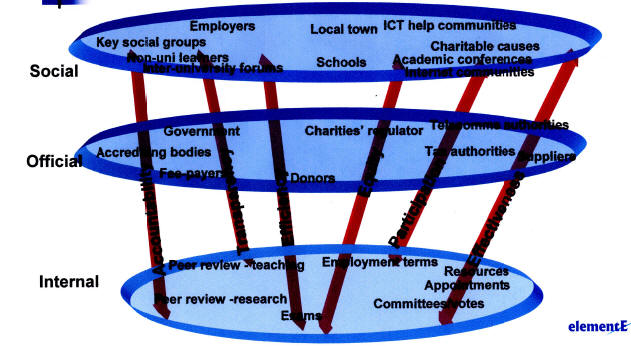 Turning the model into an appropriately customised and weighted working matrix of tasks and responsibilities is never easy - but we can help.
For a larger version of this file, click here. (pdf)